WHO IS
CAPT. HILMAR SNORRASON?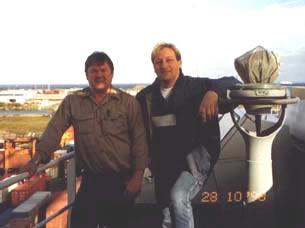 Me and my best friend Magnus taken of us in Copenhagen in October 1998
on the bridgewing of Bruarfoss where he served as a Chief Mate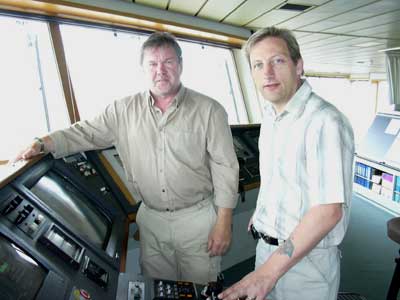 This photo was taken of us when I visit him in Port of Aarhus, Denmark in July 2003.
He was then Chief Mate on Goðafoss
In 1975 I and my best friend Magnus where AB's on the US drilling vessel Glomar Challenger. In 1978 we finished the Navigation School in Reykjavik and after that I sailed as first and chief officer on both Norwegian and Icelandic ships. Promoted to Captain in the Icelandic State Shipping in 1985. In 1991 I took over as Dep. Manager and Pricipal at the Maritime Safety and Survival Training Centre in Reykjavík which is owned by Icelandic Association of Search and Rescue. I'm as well the Captain of the training vessel Sæbjörg. I have been involved into many activities on maritime matters and at present both in the board of the Maritime Council and the Icelandic Marine Accident Investigation Board. I'm the Chairman of the International Association of Safety and Survival Training. My hobby is modern merchant ships of the world and specially Icelandic owned and operated fleet. I collect photos of ships and if you own a photo of Icelandic ships or former Icelandic ships please tell me about them. I keep a database on all merchant ships that has been owned or operated by Icelandic company's or individuals since 1885. I can also provide informations of ships that has been in the Icelandic ship's register which started in 1924. Don't hesitate to contact me if you think I can help you.
I have written two books on Icelandic shipping company's, Hf. Eimskipafélag Íslands (Eimskip) in 1988 and Skipaútgerð ríkisins (The Icelandic State Shipping) in 1990. The Icelandic State Shipping was closed down in 1992 but the company had been serving the coastal trade around Iceland since 1929. I'm also a columnist for the FFSI (Icelandic Officers Guild) magazine "Sjómannablaðið Víkingur"
I have been a member of the World Ship Society since 1974, Klubb Maritim (Sweden) since 1987 and the Shipping Information Service from 2000.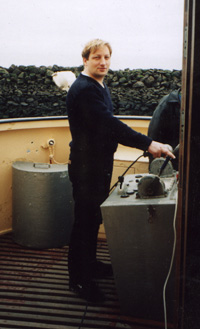 In command of Akraborg, later Sæbjörg, in 1998 prior to sale of the vessel.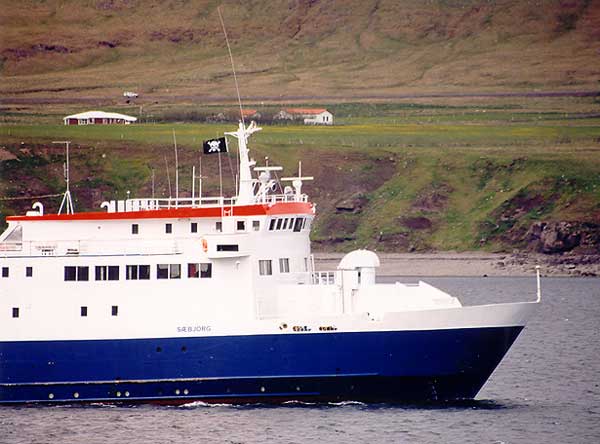 The Maritime Safety and Survival Training Centre vessel Sæbjorg participating in the Northern Viking excersize in 2001.
Due to our role as a antihostile vessel I flew the pirate flag to make our part of the exercise as real as possible.
Photo: Jón Páll Ásgeirsson